8.5in Clutch kit South Bend Clutch Turbo Stage 2 KF242-05-HD-O
---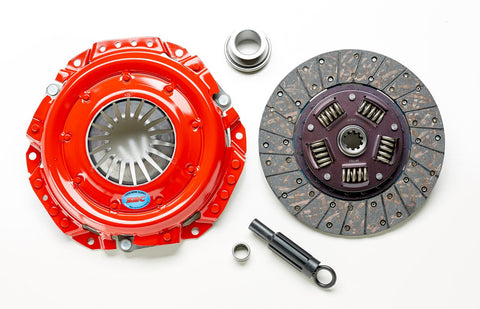 Direct drop in fits all Flat Flywheels Stage 2 turbo full face disk. Perfect for any daily driver rated at 250 torque.
M46-M47 transmissions only 
CLUTCHES ARE MADE TO ORDER WON'T TAKE RETURNS, MAKE SURE YOU ARE ORDERING THE CORRECT CLUTCH BEFORE YOU CHECKOUT. 
Clutch Usage:Performance
Clutch Disc Quantity:Single
Flywheel Included:No
Input Spline Quantity:22
Input Shaft Diameter:1.000 in.
Disc Diameter (in):8.500 in.
Disc Diameter (mm):210mm
Disc Material:Organic
Disc Style:Full face
Hub Style:Sprung
Pressure Plate Style:Diaphragm
Throwout Bearing Included:Yes
Throwout Bearing Style:Standard
Alignment Tool Included:Yes
Pilot Bushing Included:Yes
Pilot Bushing Material:Steel
Counterweight Assist:No
Mounting Hardware Included:No
Quantity:Sold as a kit.
Related Products
---