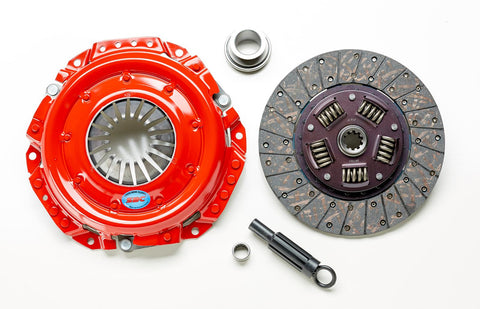 Direct drop in fits all Flat Flywheels Stage 1 turbo full face disk. Perfect for any daily driver rated at 250 torque.
CLUTCHES ARE MADE TO ORDER WON'T TAKE RETURNS, MAKE SURE YOU ARE ORDERING THE CORRECT CLUTCH BEFORE YOU CHECKOUT. 
M46-M47 transmissions only 
Input Spline Quantity:22
Input Shaft Diameter:1.000 in.
Disc Diameter (in):8.500 in.
Disc Diameter (mm):215mm
Disc Material:Organic
Disc Style:Full face, sprung hub
Pressure Plate Style:Diaphragm
Throwout Bearing Included:Yes
Throwout Bearing Style:Standard
Alignment Tool Included:Yes
Pilot Bushing Included:Yes
Flywheel Included:No
Counterweight Assist:No
Mounting Hardware Included:Yes
Related Products
---